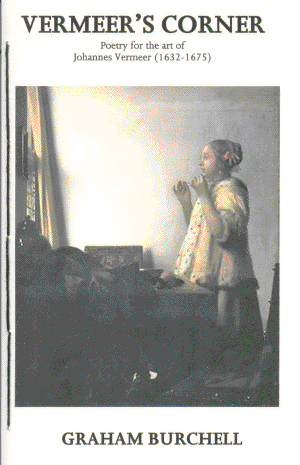 Poems on paintings are an interesting concept, but the success depends on the artist or paintings in question. This collection of poems on the work of 17th century Dutch painter Johannes Vermeer highlights the limitations of this as an idea, particularly for the whole collection. Vermeer, after all, painted only around 40 paintings in his career, and many of these are painted by the same studio window – Vermeer's Corner, as the title suggests. Not much is known about Vermeer's life. What is known though is that he was mainly a working painter, doing art on commission for money. As descriptions of the paintings, they are vivid, but the limitation of Vermeer's subjects comes through quite soon. I have only seen a few Vermeer paintings, but the rest, I can imagine more or less from Burchell's detailed descriptions, and the similarity. This is even highlighted in 'Judgement Day', as if even Burchell was becoming exhausted by the repetition:
Same corner same room same woman
you see some alchemic transaction perhaps
made mystical with drapes
The most interesting poem is certainly 'In 1944', a poem discussing the x-ray of Vermeer's Woman with a Lute, revealing further details of the scene that were painted over, 'so many/lives rolled over/so much dust to smell.' Of course, this is not an uncommon occurrence for artists, so while interesting, any painting could be the subject. Burchell, with a degree in Art and Education, misses an opportunity to divulge some technical aspects of painting and art, for which some of his paintings are quite notable. 'A View from Delft', a close second with 'In 1944' for the stand-out poem, also fails to draw upon the false nature of the supposedly realistic seventeenth century view, which is highlighted elsewhere. So often, Burchell attempts to give a voice to the women of his paintings, but gingerly avoids certainty. 'Mystery' suffers the most for this. Based on the painting 'Girl with a Pearl Earring,' where the girl asks 'who am I do you know.' Considering this painting was already the subject of a novel by Tracy Chevalier, and a film in 2004, which solved the mystery of the painting by saying 'You're Scarlett Johansson, who really loves mixing colours and the butcher's son.'
To people familiar or interested in Vermeer's paintings, this could be an interesting read, interpreting the paintings with more flair than an art book, or blurb in a gallery could do. To anyone else, it is a concept that suffers because of the limitations of the original artist, as opposed to the poet. The poems are too repetitive, and alike to really accurately reflect the poet's work. Individually, many poems are fine, but together, they cancel each other out. Every poem repeats the words 'pearl' and 'light.' Vermeer's obscure life means there's nothing being said about the artist, there is perhaps nothing to say there. When the last poem, 'Finale', begins 'so finally we come to this', I hear it so exhaustedly, with a sense of relief that the book is finished. Burchell may be a fan of the artist, but the many girls in pearls and yellow window light make for a collection much like Vermeer's paintings – technical and skilled, but mostly lacking excitement.
Vermeer's Corner published by FootHills Publishing is available here