---
READ OF THE DAY
LUCY CRISPIN
Mandatory Blackbird Poem
The kitchen door was open. Suddenly,
in from the sun-streaked afternoon, where cloud
was being shoved around a wedgewood sky,
a blackbird hurtled. Its young wings were loud
as, shitting fear, it ricocheted through air
between the skylight and the windowsill,
and thudded hard, and fell. It waited there,
alternately in spasm and then still,
beak open, gulping. And though I was loath
to scare it any more, I also knew
I couldn't leave it. Taking a soft cloth
I tried to clasp it, but again it flew
against the pane, and scrabbled; and its fear
was somehow frightening to me. At last
I cupped the brown wings in my hands. With sheer
relief I loosed it at the door where, fast
and sure, it lifted off. I saw it land
to rest, and watched it breathe; and some lost part
of me felt envy, for persistent hands
which dare to stay and gentle a raw heart
are what I've longed for all my life. I thought
of when my father was dying, and how
in those last days we witnessed as he fought
his way towards the end he craved; and how
you came to me, then, and in soft, dark night
your arms encompassed me, hands twined in hair;
you held me while my body shook, and fright
and lostness shuddered through me. You were there;
so, though some emptinesses never fill;
though what we treasure most must slip our grasp;
and though our scars persist within us—still,
in love, not just in fear, some days have passed.
'Mandatory Blackbird Poem' by Lucy Crispin was highly commended in the Sentinel Literary Quarterly Poetry Competition (August 2019) judged by Roger Elkin.
---
---
BLAST FROM THE PAST
UDUMA KALU
To the unheard voice
[For Nwachukwu]
I have drunken of the deep.
I have heard mermaids singing.
Our paths have branched to the road not taken
This is a period of silence.
The audience retain their body.
But the masquerade dances to secret tones of the dead.
This is a period of silence.
You too can hear mermaids singing in the night.
Between the deep, under the crevices of the towering
rapids.
You too can partake in the ritual of the masquerade.
But our paths have branched to road not taken.
We danced to the virginal throbs of the jungle.
Then it was our circumcision to silence.
But those spirits gave us the pots.
What was in your pot, son of God?
There was no reptile when I broke my gift.
You too can hear mermaids singing.
You too can hear winds raving in the wild.
The thunder too can play jazz.
But have you drunken of the deep?
This is a period of silence.
This silence sings of rituals.
These rituals sing of spirits.
When you will listen to mermaids singing their strange
songs in the deep.
Does your pot contain sacred songs now?
Then you will rise above the folds.
Then you will soar.
Then you will lose your flesh and dance a mermaid's
dance.
Haven't you seen them in the noons making strange
marks in the sand?
Did you think they sang of you then.?
Did you think they danced to the raw beats of your
jungle.
I have worn those masks, son of God.
They carved me in woods
They painted me red, yellow and white
The painted me black.
They made me a woman.
And like Ekwefi searching for her husband among the
audience
You did not see me in the crowd.
But I was agboghommo sparkling like scattered gold in
the sun.
I danced in the noons making mysteries to the seventh
earth.
You thought I was colourful then, son of God.
You thought I was making music for an incoming
madness.
But I was just agboghommo learning the secrets of the
mermaids.
'To the unheard voice' by Uduma Kalu was first published in Sentinel Poetry (Online) Magazine in February 2003.
---
CELEBRATING HERITAGE THROUGH THEATRE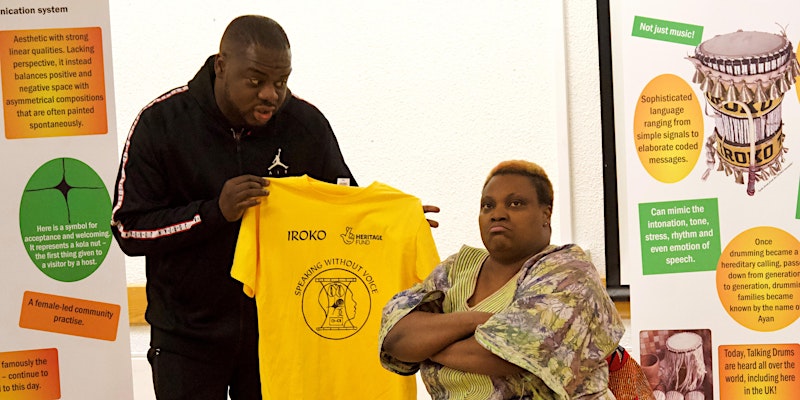 Iroko Theatre Company invites you to enjoy theatrical scenes, musical interludes, 'behind the scenes' insights and engage in interactive discussions from the comfort of your own home on Friday 31st July 2020.
Laugh, learn, singalong and discover how for hundreds of years Nigerians have used sounds, rhythms, symbols and objects to communicate…
A Present for the Women of Uli is an original performance written by IROKO Theatre's Artistic Director Alex Oma-Pius and inspired by research carried out as part of the Speaking Without Voice project. It is a funny, informative and light-hearted production about Bisi, his mother and their relationship with Nigerian heritage and each other.
Originally performed earlier this year as part of our Sharing Day series, join IROKO as we embrace the 'new normal' and take this show online! Celebrating Heritage through Theatre will present a medley of songs and scenes, as well as giving you the chance to ask questions about the heritage and making of the production.
Suitable for everyone aged 7+
Register for this FREE event now.
---
COMPETITION
Sentinel Literary Quarterly Poetry Competition (July 2020)
Closing date: 31 July 2020
Judge: Terry Jones
This competition is for original, previously unpublished poems in English language, on any subject, in any style up to 50 lines long. Poems posted on
members-only non-public groups for review/critique as part of the creative process are not deemed to have been previously published. Poets of all ages, gender or nationality living in any part of the world are eligible to enter.
Prizes: £250 (1st), £100 (2nd), £50 (3rd), £30 x 3 (High Commendation), £15 x (Commendation), 3 x SLQ Paperback (Special Mentions)
Fees £5/1, £8/2, £10/3, £12/4, £14/5, £16/7, £22/10)
Results: 31 August, 2020
Publication: Prize-winning, commended and specially mentioned poems will receive first publication in Sentinel Literary Quarterly magazine (online and print).
---
THE 2020 BOOKER PRIZE LONGLIST
The 2020 Booker Prize Longlist has been announced as follows:
Diane Cook – The New Wilderness
Tsitsi Dangarembga – This Mournable Body
Avni Doshi – Burnt Suga
Gabriel Krauze – Who They Was
Hilary Mantel – The Mirror & The Light
Colum McCann – Apeirogon
Maaza Mengiste – The Shadow King
Kiley Reid – Such a Fun Age
Brandon Taylor – Real Life
Anne Tyler – Redhead by The Side of The Road
uglas Stuart – Shuggie Bain
Sophie Ward – Love and Other Thought Experiments
C Pam Zhang – How Much of These Hills is Gold
The shortlist of six books will be announced on 15 September, with the £50,000-prize winning author being revealed in November.
---
Follow Sentinel Literary Quarterly on Facebook and Twitter
---
Home | SLQ Daily | Contact: slqdaily@sentinelquarterly.com